by Jon Lewin on March 26, 2012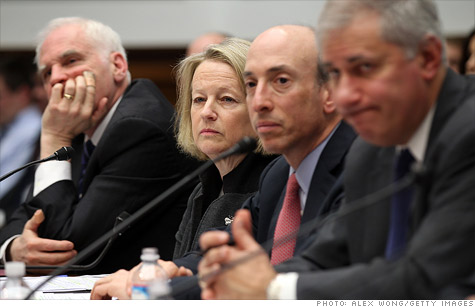 Four months of lobbying led by the likes of Goldman Sachs and JPMorgan Chase have lawmakers and regulators open to delaying and making changes to the Volcker Rule, Bloomberg reports.
Banks and trade associations have enlisted money managers, municipal officials and even foreign governments to lobby regulators at five federal agencies to weaken the Volcker Rule.
"The regulators are under a lot of pressure," said Marcus Stanley, policy director of Americans for Financial Reform. Stanley's group supports the Volcker Rule, which is intended to prevent banks from making speculative trades on their own accounts.  But according to Stanley, his side has about two dozen people lobbying Congress and the agencies, while hundreds of representatives of the banking industry are urging their customers to speak out against the rule, which they say will hurt liquidity and raise costs.
Lobbying groups want to dilute the rule by having regulators expand how market making is defined and lessen the amount of trading that is considered proprietary. They contend that banks should be permitted to keep an inventory of securities to make it easier for clients to trade and to help banks raise capital through issuing debt.
Lobbyists succeeded in getting BlackRock, the largest money manager in the world, to write a letter to federal agencies on February 13 in which it said that the rule "will limit U.S. banks' competitiveness and ultimately weaken the very system it was designed to protect."
The American Bankers (2919Q) Association and the Financial Services Forum sent aides on the House and Senate banking panels a 14-page description of the rule's perils.
Lobbyists warned central banks outside the U.S. that the Volcker rule would put their sovereign debt at a competitive disadvantage since the rule would exempt U.S. Treasury bonds. By the end of February, regulator or central bankers from several countries expressed formal concerns to U.S. officials.
Supporters of the rule say that it is needed to prevent banks from taking advantage of benefits such as federal deposit insurance to make the sort of risky trades that helped bring about the 2008 financial crisis.
The Independent Community Bankers of America were encouraged to join the lobbying effort against the Volcker Rule, but are instead supporting the rule. Camden Fine, their president, says that Wall Street is using their usual arguments about raising costs and hurting the markets to fight legislation they don't like.
"It's the same song, different verse," Fine said. "A bunch of these guys have just sort of forgotten the last four years."
Senator Jeff Merkley, a Democrat from Oregon, helped put the Volcker Rule into Dodd-Frank. Markley says there is no evidence that the rule would hurt market liquidity and that "the banks are using every strategy they possibly can" to "confuse the issue."
Merkley and several other senators have filed a 54-page comment letter supporting the Volcker Rule, in which they maintain that the rule "is intended to provide a 21st century version of the Glass-Steagall Act" that separated investment and commercial banking in the 1930s and "served our economy – and financial system – so well."
Jon Lewin is a Feature Writer for the Compliance Exchange and Wall Street Job Report. He is also a columnist for the Faster Times and a blogger for Subway Squawkers. Lewin's work has appeared in the New York Daily News, Huffington Post and Digital Innovation Gazette as well as the "Cambridge Companion to Baseball" and the Daily News history essay collection "Big Town Big Time."